Preview Sample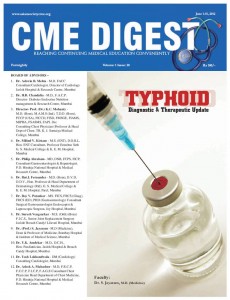 CME Digest is a new and unique initiative from Asian Society of Continuing Medical Education.
It is India's first fortnightly journal dedicated to CME. It will be Published from Mumbai under
the Editorship of Dr. Milind Nadkar.
The objective of the Journal is to update the knowledge and enhance the skills of physicians
in managing both commonly and not-so-commonly encountered disease conditions in the
clinic. Asian Society of Continuing Medical Education through this Journal aims to provide
quality CME to doctors in every nook and corner of India.
Each issue of the journal would dwell in depth an disease condition and would be authored
by a leading nationally renowned Key Opinion Leader.
The CME will be structured for easy and quick assimilation. The CME would be supported by
Case Studies and Clinical Challenges.
The case Studies would serve the purpose of demonstrating the application of knowledge
while the clinical challenges would serve the role of self evaluation. In addition to the CME, each issue would have columns on News &
Notes and Medico – legal issues.